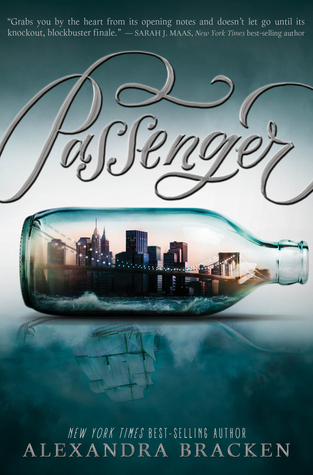 Passenger
In one devastating night, violin prodigy Etta Spencer loses everything she knows and loves. Thrust into an unfamiliar world by a stranger with a dangerous agenda, Etta is certain of only one thing: she has traveled not just miles but years from home. And she's inherited a legacy she knows nothing about from a family whose existence she's never heard of. Until now.

Nicholas Carter is content with his life at sea, free from the Ironwoods—a powerful family in the colonies—and the servitude he's known at their hands. But with the arrival of an unusual passenger on his ship comes the insistent pull of the past that he can't escape and the family that won't let him go so easily. Now the Ironwoods are searching for a stolen object of untold value, one they believe only Etta, Nicholas' passenger, can find. In order to protect her, he must ensure she brings it back to them—whether she wants to or not.

Together, Etta and Nicholas embark on a perilous journey across centuries and continents, piecing together clues left behind by the traveler who will do anything to keep the object out of the Ironwoods' grasp. But as they get closer to the truth of their search, and the deadly game the Ironwoods are playing, treacherous forces threaten to separate Etta not only from Nicholas but from her path home... forever.
Hija de humo y hueso
Karou es una estudiante de arte de 17 años que vive en Praga. Pero ese no es su único mundo. A veces, Karou desaparece en misteriosos viajes para realizar los encargos de Brimstone, el monstruo quimera que la adoptó al nacer.

Tan misteriosa resulta Karou para sus amigos, como lo es para ella su propia vida: ¿cómo es que ha acabado formando parte de una familia de monstruos quimera? ¿Para qué necesita su padre adoptivo tantos dientes, especialmente de humanos? Y, ¿por qué tiene esa recurrente sensación de vacío, de haber olvidado algo?

De pronto, empiezan a aparecen marcas de manos en las puertas, señal de que la familia de Karou corre grave peligro. Karou tratará de cruzar al mundo quimérico para ayudarles, pero es perseguida por los serafines. Entre ellos se encuentra Akiva, un ángel arrebatadoramente hermoso al que Karou está unida de forma que ni ella misma puede imaginar.
The dark days club (Lady Helen #1 )
London, April 1812. On the eve of eighteen-year-old Lady Helen Wrexhall's presentation to the queen, one of her family's housemaids disappears-and Helen is drawn into the shadows of Regency London. There, she meets Lord Carlston, one of the few who can stop the perpetrators: a cabal of demons infiltrating every level of society. Dare she ask for his help, when his reputation is almost as black as his lingering eyes? And will her intelligence and headstrong curiosity wind up leading them into a death trap?